How Often Should You Clean Your Air Ducts?
5/25/2021 (Permalink)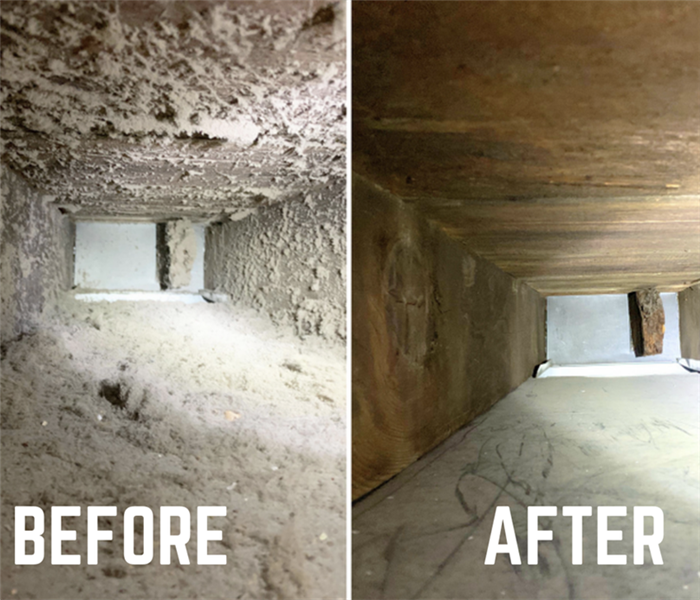 If you notice your heating or air conditioning isn't performing as well as it should, contact SERVPRO for professional air duct cleaning in Cibolo.
When it comes to home maintenance in Cibolo, there are so many things to keep track of that it just makes sense to have a cleaning schedule. A dirty window or a smelly fridge reminds us that it's time to get to that house cleaning we've been putting off.
But what is dirty isn't always seen nor obvious. Air quality may be on the decline because of dirty air ducts. How often should you clean your air ducts? In this guide, we'll go over what all is involved with keeping air ducts sanitary, so you'll know whether or not to include the cleaning of dirty air vents into your home maintenance schedule.
Do Air Ducts Need to be Cleaned?
Like many peripheral issues in the home, unless a problem happens, air ducts and vents are forgotten about. While simply changing the air filter or using an air-purifying apparatus are common solutions to air quality issues, we should remember to check the air vents and air ducts too.
How often should you clean your air ducts depends on your situation. If you have ductwork made from sheet metal, the ducts should be cleaned every few years. Some HVAC systems can be harmed from cleaning, so it's best to refer to manufacturer directives before attempting to clean the duct structure and its components.
How often should you clean your air ducts depends on the circumstances regarding symptoms of air quality problems and other issues.
How Do I Know If My Air Ducts Need to be Cleaned
How often should you clean your air ducts depends on certain issues that arise in your household. Some situations call for the inspection and clean out of vents in homes. We'll go over these factors one by one, so you'll know if you're among those who should consider scheduling an air duct cleaning.
Vent Filters Get Dirty Too Quickly
The frequency of contaminant accumulation plays a role in how often should you clean your air ducts. Dust, pet dander, dead skin cells, and other particles carried by the airflow build up over time in the ductwork.
If you find yourself replacing air filters more often than usual (every three months) you may have an unusual amount of debris in your environment. This issue may lower the performance of your air system.
HVAC systems are not supposed to clog up like this, so this could be a sign of an improperly installed system or an instance where it hasn't been properly maintained. If you aren't the first owner of the home, you may not have known of any issues with your system.
Unexplained Sounds Through Air Vent
Modern HVAC systems are whisper quiet. If you've been hearing strange sounds, this might be because there's a blockage in your ducts, like a swooshing sound. While this wouldn't be a clear sign of an air vent block, it could be additional evidence that there is a problem.
Frequent Respiratory Problems
How often should you clean your air ducts may relate to environmental health standards. Homes and care facilities that house those who are vulnerable to illness call for more caution when it comes to air quality. If there is reason to believe that the air quality is unhealthy, cleaning out build-up in the air vents is worth looking into.
Sudden Rodent Infestation
Homeowners sometimes find that they are not the only ones living in their homes as rodents gain entry through small holes around the perimeter of the house.
When feral animals get into your home, they are likely to destroy things. Rats will bite and claw at wood and wiring, but what's worse is the waste they leave behind that ends up mixing with the air.
Because of how destructive rodents are, you should get extermination help right away because these pests will continue to create a health hazard.
New Mold Growth
Mold in the air is patently unhealthy. Mold spores love to live and thrive in dark places with plenty of moisture and cellulose material to consume. HVAC systems are one of the ideal places for mold to take root.
Be it the weather or something that goes wrong that causes water damage, mold can grow in air ducts and around vents. Cleaning the vents helps, but the problem won't go away until the cause of the mold is dealt with.
How often should you clean your air ducts may come down to how susceptible your region is to mold growth. Mold has a distinct smell, and it adversely affects air quality. However, to confirm that you have a mold problem, you'll need professional testing (and SERVPRO offers mold tests).
Spike In Electric Bill
Homeowners in Cibolo, TX may see fluctuations in their electricity bills. But what about those times when a bill is higher than expected for the season?
When a blockage causes inefficiency in your HVAC system, this means you'll be wasting energy with a unit that is forced to work harder. To resolve this issue, a professional technician will look for leaky ducts and clean out the parts that are blocking the airflow.
Inconsistent Air Flow In Each Room
Central air is supposed to keep each room at the same baseline temperature. When one area is cooler or hotter than the other areas, this is a sign that something is wrong with your HVAC circulation. If airflow seems inconsistent, it might be due to a blockage in the ductwork.
How Often Should Air Ducts Be Cleaned?
How often should you clean your air ducts is not set in stone, but the consensus among professionals is that it be done every 3-5 years. The EPA says that air ducts should only be cleaned on an as-needed basis.
The following circumstances warrant air duct and HVAC system cleaning:
Excessive pet hair and dander from a house with several animals.
Presence of persistent water and moisture issues.
Fire damage
Mold growth
When residents have special health concerns.
After a home renovation, remodeling, or when taking over ownership from a previous owner.
There is little proof that your system's efficiency can be increased simply by cleaning the ducts. A more comprehensive cleaning has a better chance of doing this. This would include removing build-up from cooling coils, fans, and heat exchangers. If key areas of the system are not cured, this means the system is vulnerable to re-contamination.
If professional cleaning isn't done right, it can make matters worse than if you had just left it alone. More dust, dirt, and other contaminants would be released in the air with inadequate vacuuming, or technicians may accidentally damage the ducts or the HVAC system.
As for air quality considerations related to seasonal maintenance, the EPA recommends that all fuel-burning furnaces, stoves, or fireplaces be inspected for proper functioning and serviced before the heating season to protect against carbon monoxide poisoning.
Contact SERVPRO for a Free Air Duct Cleaning Estimate
How often should you clean your air ducts is not very often. It's usually done under abnormal circumstances.
The benefits of air duct cleaning are:
Improved efficiency for your HVAC system
Energy cost savings
Lower humidity helpful for mold growth prevention
If you run into performance problems with your heating and air conditioning systems or encounter health concerns, a SERVPRO duct cleaning may be in order. We'll carefully clean the entire system with the appropriate equipment (HEPA vacuums), and protect your belongings and HVAC systems from damage.
SERVPRO offers a free cleaning estimate for duct cleaning. We are equipped to handle systems in homes, apartments, schools, offices, commercial buildings, and medical facilities.
Call SERVPRO any time at (830) 379-7474 with any questions you have about air duct cleanings or to set up a time to get your free estimate!