4 Immediate Steps to Take After a Toilet Overflows
3/11/2022 (Permalink)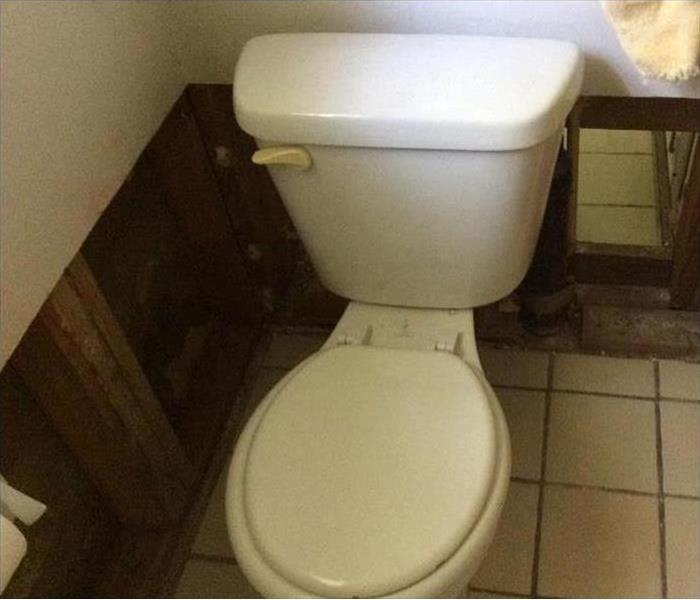 If you are having issues with an overflowing toilet, call SERVPRO of Guadalupe and Gonzales Counties.
What To Do When Toilet Overflows?
Sewer damage or foreign objects can result in an overflowing toilet. The last thing you want is for a bathroom to become unusable because it is filled with water, especially contaminated water. No matter what, you should contact a sewage cleaning company in Seguin, TX right away. Professionals should arrive promptly to fix a flooded toilet, especially if you state it is an emergency. However, there are steps you can take on your own to prevent the damage from getting worse before experts get there.

1. Turn Off the Water Supply

Most toilets are designed to stop filling the bowl with water at a certain point to prevent flooding. However, an issue with the system can cause the bowl to fill up past the breaking point. You should know where the water main is located in your house. Turn it off promptly before more sewer damage is allowed to enter your house.

2. Turn Off Electricity to the Bathroom

It is also a good idea to shut off the circuit breaker supplying power to the bathroom. Even a small amount of water can result in electrocution if someone steps in it. Many bathrooms in Seguin, TX do not have power outlets close to the ground, but if yours does, then you want to make sure it is not hot when it comes into contact with water.

3. Circulate Air

To prevent the air from getting too humid, you should promote ventilation in the bathroom. Open up windows to get air moving. You should also bring in fans if you can, which you can keep in the other room or hallway, so you are not setting them directly in the floodwater.

4. Remove Soaked Bathroom Rugs

If you can safely do so, then remove bathroom mats on the floor that have sustained sewer damage. If you cannot, then wait until the sewage company arrives so that professionals can salvage your belongings. With a quick enough response, you may be able to prevent mold growth by washing the mat thoroughly.